Welcome to the Download-Area for the plans of the Nordwerk Design HyPar-Table. We are publishing these plans in order to help companies, organizations and agencies to have a positive impact by reducing waste and/or use more recycled material. Therefore we are giving the plans to you, so you can help create a better and greener world. In order to do so, we relinquish revenue. But we are doing so in order to show how serious we are about creating a better tomorrow.
This Download-Area contain the following data:
.dxf-Plans, not nested, for the Material of your choice (10 mm thickness)
.pdf-Files for print, nested on DIN A0 Format (ISO 216) for manual production
A manual on how to build the MC 205. The system is similar for the HyPar-Table
Important Informations:
Please note that the HyPar-Table was made with 10 mm thick Re-board® material. If you decide to use a material of a different thickness, you will need to modify these for it to work with the thickness of your material choice. Please note that simply scaling the files will NOT work. The slots must be adjusted manually.
Also please not that not all cardboard is of the same quality. Lower quality materials might have an impact on the stability. That is why we strongly suggest to use Re-board® or comparable materials. Also please not that the weight of the table top will have an impact on the structure.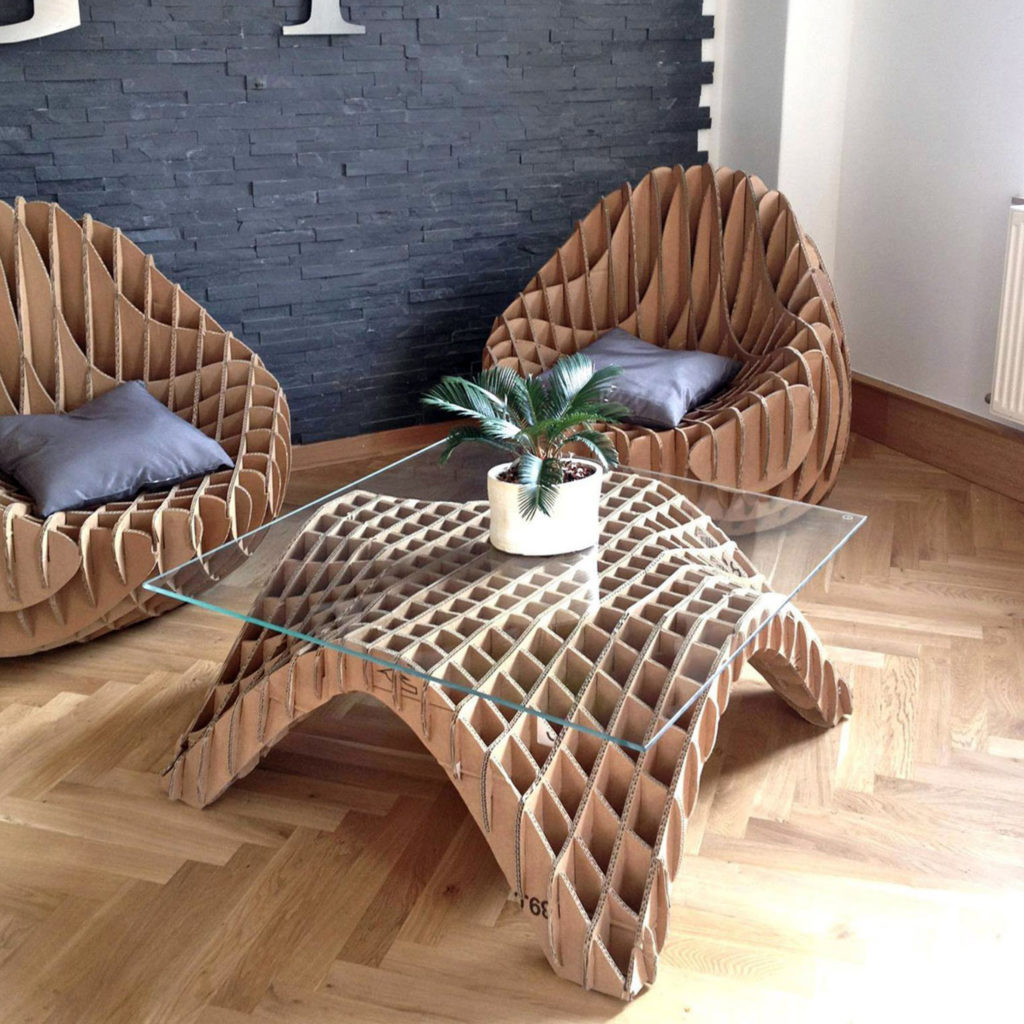 The data published is for professional users who are equipped with proper cutting technology and who are experienced in operating their equipment. If you are not a professional user and/or you don't have a CNC-Machine or equivalent technology, please download the file "Printfiles for Nordwerk HyPar-Table – DIN A0" and pin the printed sheets onto 10 mm thick material of proper size. When cutting, follow the blue line. Remember to mark the numbers of the slots and the pieces on the cut material in order to ensure correct assembling.
Please note that cutting the material might be challenging and will take some practice and can differ depending on the material you use.
Nordwerk Design will not take any responsibility for the use or production of this design. The material you use should be tested in order to ensure stability. Since these tests are not done by Nordwerk, we do not take any responsibility for any issues arising from it. We also do not take any responsibility for any injuries while cutting, assembling or using the HyPar-Table. Note, that all steps happen at your own risk.
Note, that cutting the material can cause injuries. Make sure you know how to handle your equipment. Never cut while being intoxicated.
Nordwerk Design is giving away the rights to use the data to everyone! The data may be used for commercial and non-commercial purposes. However, please note that the name of the table is Nordwerk Design HyPar-Table. As the original creators of the chair, we would appreciate if you would keep that name.
Final notice:
Thank you for your download and for your efforts to make the world a better place.
When you build the chair, please send us a picture and tag us on Facebook and Instagram. For any question related to the Nordwerk MC 302 please mail us.
Your Nordwerk Design-Team Germany & Hive City-Team Canada.